Supervisor Basics Series
A 12-part training program helping supervisors transition to effective leaders.
Request a FREE Trial
Latest Download
White Paper: "The 4 Pillars of Effective Succession Planning: Redefining Traditional Models"
Testimonial
Impact Achievement Group makes us feel like they are part of our team. They have made us "look in the mirror" and provided actionable roadmaps to change what we see as appropriate leadership behaviors. They provide a comprehensive portfolio of useful tools and methods to assist us in leaping ahead of all the competition.

-George Anderson
Director HR & Labor Relations, The Kroger Company
We address the Accountability & Execution Gap

...that gap between setting goals and achieving them, with accountability for results!
The old academic models of leadership development are extinct!
In today's high velocity, uncertain and complex business environment, focus on leadership effectiveness is more critical than ever. Impact Achievement Group has a proven record of helping organizations select and develop leaders who can execute effectively as well as effectively hold their people accountable for results.
Through the use of leading edge assessments, a highly personalized and practical learning framework, supported by interactive reinforcement activities, we create organizational alignment with competent leaders who execute and hold others accountable.
Would you like to know which managers will:
Innovate & enthusiastically lead change?
Effectively communicate with others?
Coach effectively?
Implement consistent and routine accountability for results?
Engage direct reports to deliver discretionary effort?
Drive business results through focused performance management?
...we can show you!
Investigate our recognized solutions for:
Solutions Demo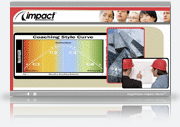 Visit Our Harrison Assessments™ Website Portal
Utilizing our powerful diagnostic tool, the Harrison Assessment System™, we help companies select and develop the best talent:
• Selection
• Individual & Team Development
• Succession Planning
• Career Planning
Predictive. Comprehensive. Performance Results.
Learn more about our Harrison Assessments
Top Leadership Development Firm
IAG recognized among
top leadership development vendors
in Bersin & Associates research.